Neurological and neurocognitive alterations by COVID-19
Keywords:
Neurological alterations, Neurocognitive alterations, COVID-19
Abstract
Letters to the editor
Downloads
Download data is not yet available.
References
Carod-Artal, F. J. (2020). Complicaciones neurológicas por coronavirus y COVID-19. Rev Neurol, 70(9), 311-322. https://doi.org/10.33588/rn.7009.2020179
Galha, L. (2020). Os assintomáticos podem vir a ter consequências a nível neurológico (Filipe Froes). CIÊNCIA & SAÚDE. https://www.sabado.pt/ciencia---saude/detalhe/os-assintomaticos-podem-vir-a-ter-consequencias-a-nivel-neurologico?fbclid=IwAR0oxlzGHC3OlFezo0z6Fu0kVANji3qeSF2ZcX8IIozCoOH1aNsNQqtijr0
Hampshire, A., Trender, W., Chamberlain, S. R., Jolly, A., Grant, J. E., Patrick, F., Mazibuko, N., Williams, S., Barnby, J. M., Hellyer, P., & Mehta, M. A. (2020). Cognitive deficits in people who have recovered from COVID-19 relative to controls: An N=84,285 online study. medRxiv, 2020.2010.2020.20215863. https://doi.org/10.1101/2020.10.20.20215863
Helms, J., Kremer, S., Merdji, H., Clere-Jehl, R., Schenck, M., Kummerlen, C., Collange, O., Boulay, C., Fafi-Kremer, S., Ohana, M., Anheim, M., & Meziani, F. (2020). Neurologic Features in Severe SARS-CoV-2 Infection. N Engl J Med, 382(23), 2268-2270. https://doi.org/10.1056/NEJMc2008597
Matías-Guiu, J., Gomez-Pinedo, U., Montero-Escribano, P., Gomez-Iglesias, P., Porta-Etessam, J., & Matias-Guiu, J. A. (2020). ¿Es esperable que haya cuadros neurológicos por la pandemia por SARS-CoV-2? Neurologia, 35(3), 170-175. https://doi.org/10.1016/j.nrl.2020.03.001
Orozco-Hernández, J. P., Marin-Medina, D. S., & Sánchez-Duque, J. A. (2020). Manifestaciones neurológicas de la infección por SARS-CoV-2. Semergen, 46 Suppl 1, 106-108. https://doi.org/10.1016/j.semerg.2020.05.004
Paterson, R. W., Brown, R. L., Benjamin, L., Nortley, R., Wiethoff, S., Bharucha, T., Jayaseelan, D. L., Kumar, G., Raftopoulos, R. E., Zambreanu, L., Vivekanandam, V., Khoo, A., Geraldes, R., Chinthapalli, K., Boyd, E., Tuzlali, H., Price, G., Christofi, G., Morrow, J., McNamara, P., McLoughlin, B., Lim, S. T., Mehta, P. R., Levee, V., Keddie, S., Yong, W., Trip, S. A., Foulkes, A. J. M., Hotton, G., Miller, T. D., Everitt, A. D., Carswell, C., Davies, N. W. S., Yoong, M., Attwell, D., Sreedharan, J., Silber, E., Schott, J. M., Chandratheva, A., Perry, R. J., Simister, R., Checkley, A., Longley, N., Farmer, S. F., Carletti, F., Houlihan, C., Thom, M., Lunn, M. P., Spillane, J., Howard, R., Vincent, A., Werring, D. J., Hoskote, C., Jäger, H. R., Manji, H., & Zandi, M. S. (2020). The emerging spectrum of COVID-19 neurology: clinical, radiological and laboratory findings. Brain, 143(10), 3104-3120. https://doi.org/10.1093/brain/awaa240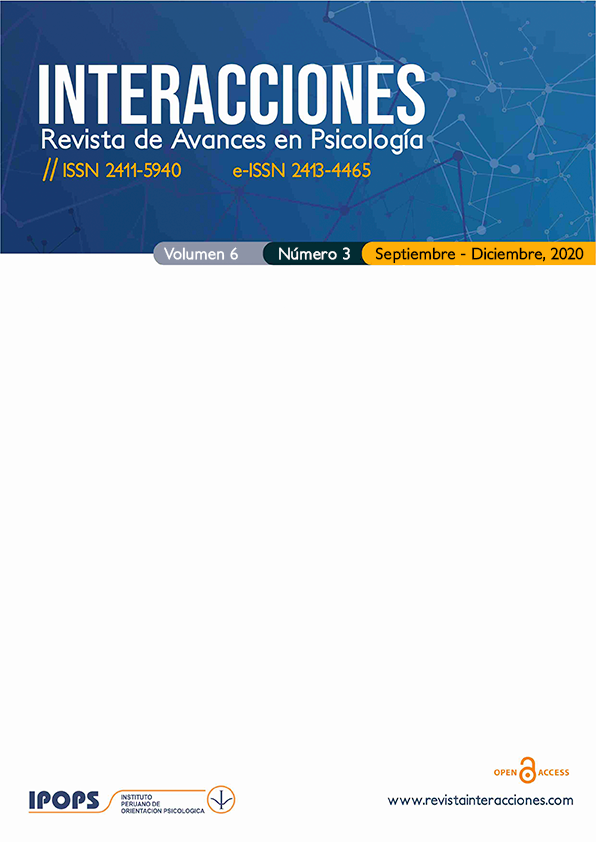 How to Cite
Da Silva Rodrigues, C. (2020). Neurological and neurocognitive alterations by COVID-19. Interacciones, 6(3), e181. https://doi.org/10.24016/2020.v6n3.181
Section
Letter to the editor
Copyright (c) 2020 Interacciones
This work is licensed under a Creative Commons Attribution 4.0 International License.
The authors retain the copyright and give the journal the right of the first publication and that they can edit it, reproduce it, distribute it, exhibit it and communicate it in the country and abroad through printed and digital media.
The digital version of the journal is registered under a Creative Commons license (Under Creative Commons License): Attribution 4.0 International (CC BY 4.0). Therefore, this work can be reproduced, distributed and publicly communicated in digital format, provided that the names of the authors and Interacciones.
Therefore, it is established that authors can make other independent and additional behavioural agreements for the non-exclusive distribution of the version of the article published in this journal (eg, include it in institutional repositories or publish it in a book) as long as it is clearly indicated that the work was published for the first time in this journal.