Collaboration of Clinical Psychology in the Critical Care Unit: prevention and treatment of post-ICU syndrome
Keywords:
clinical psychology, intensive care, post-ICU syndrome, humanization, post-traumatic stress disorder
Abstract
Letter to the Editor:
Currently, there is extensive knowledge regarding the emotional problems linked to critical illness, the treatments required by it, the associated experiences and post-ICU difficulties in patients, families and professionals. Some difficulties derived from admission to the ICU have been grouped under the so-called post-intensive care syndrome (or PICS). During acute critical illness, a series of preventive measures should be put in place that are focused on minimizing the impact of PICS. The aim of this work is to show the experience with the psychological intervention project in the Intensive Care Unit of Anesthesiology of the Complejo Hospitalario Universitario de Albacete (Spain). We consider that it is essential to report initiatives that improve the quality of care.
Downloads
Download data is not yet available.
References
Needham, D. M., Davidson, J., Cohen, H., Hopkins, R. O., Weinert, C., Wunsch, H., Zawistowski, C., Bemis-Dougherty, A., Berney, S. C., Bienvenu, O. J., Brady, S. L., Brodsky, M. B., Denehy, L., Elliott, D., Flatley, C., Harabin, A. L., Jones, C., Louis, D., Meltzer, W., … Harvey, M. A. (2012). Improving long-term outcomes after discharge from intensive care unit: Report from a stakeholders' conference. Critical Care Medicine, 40(2), 502-509. https://doi.org/10.1097/CCM.0b013e318232da75
Ohtake, P. J., Lee, A. C., Scott, J. C., Hinman, R. S., Ali, N. A., Hinkson, C. R., Needham, D. M., Shutter, L., Smith-Gabai, H., Spires, M. C., Thiele, A., Wiencek, C., & Smith, J. M. (2018). Physical Impairments Associated With Post-Intensive Care Syndrome: Systematic Review Based on the World Health Organization's International Classification of Functioning, Disability and Health Framework. Physical Therapy, 98(8), 631-645. https://doi.org/10.1093/ptj/pzy059
Pun, B. T., Balas, M. C., Barnes-Daly, M. A., Thompson, J. L., Aldrich, J. M., Barr, J., Byrum, D., Carson, S. S., Devlin, J. W., Engel, H. J., Esbrook, C. L., Hargett, K. D., Harmon, L., Hielsberg, C., Jackson, J. C., Kelly, T. L., Kumar, V., Millner, L., Morse, A., … Ely, E. W. (2019). Caring for Critically Ill Patients with the ABCDEF Bundle: Results of the ICU Liberation Collaborative in Over 15,000 Adults. Critical Care Medicine, 47(1), 3-14. https://doi.org/10.1097/CCM.0000000000003482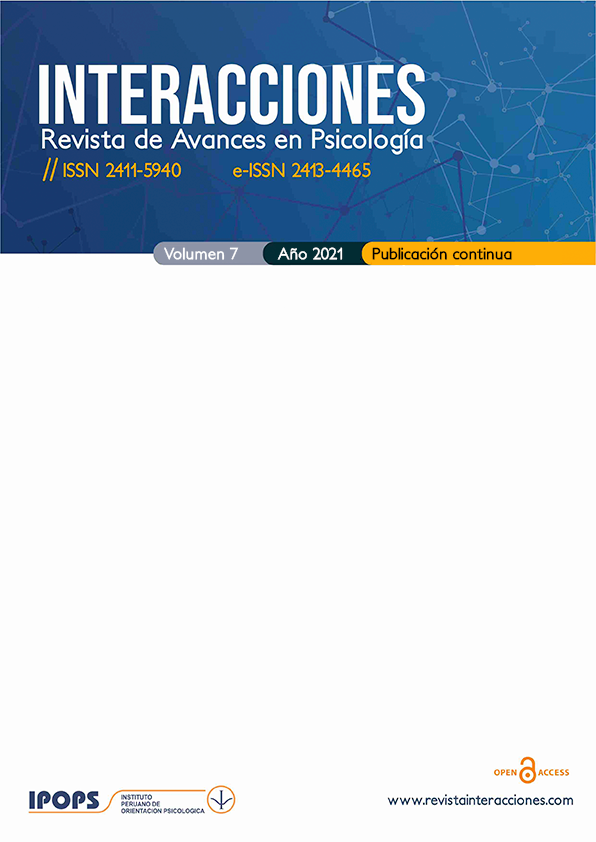 How to Cite
Charco Roca, L., Martínez Granero, G., Gómez Castillo, M., & Jiménez Vizuete, J. (2021). Collaboration of Clinical Psychology in the Critical Care Unit: prevention and treatment of post-ICU syndrome. Interacciones, 7, e234. https://doi.org/10.24016/2021.v7.234
Section
Letter to the editor
Copyright (c) 2021 Interacciones
This work is licensed under a Creative Commons Attribution 4.0 International License.
The authors retain the copyright and give the journal the right of the first publication and that they can edit it, reproduce it, distribute it, exhibit it and communicate it in the country and abroad through printed and digital media.
The digital version of the journal is registered under a Creative Commons license (Under Creative Commons License): Attribution 4.0 International (CC BY 4.0). Therefore, this work can be reproduced, distributed and publicly communicated in digital format, provided that the names of the authors and Interacciones.
Therefore, it is established that authors can make other independent and additional behavioural agreements for the non-exclusive distribution of the version of the article published in this journal (eg, include it in institutional repositories or publish it in a book) as long as it is clearly indicated that the work was published for the first time in this journal.